Did You Know?
Former Tiger closer Todd Jones has "John 20:29" tattooed on his left hand.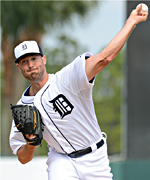 Robbie Ray, LHP — Detroit Tiger (2014-)



Born: October 1, 1991
B-T: L-L Ht: 6′2″ Wt: 195
Major League Debut: May 6, 2014 with the Tigers at Comerica Park

I grew up in a Christian home. My mom and dad were both active in church and they laid a strong foundation for my relationship with Christ. As a child, I grew up LEARNING who Christ was from my parents, through my church, and at special events like Vacation Bible School. Still something was missing. I knew about Jesus but I did not know what it meant have Him in my life.

It was my sophomore year in high school when my whole world came CRASHING down. I thought I was on top of the world just like every other teenager. I was driving home one day from baseball practice, early in the morning, after it had rained the night before. All of a sudden my car started to hydroplane. I slammed into the wall, bounced across four lanes of traffic and walked away without a scratch. While I was grateful to God for watching out for me and sparing my life, I knew that if I had died that day I would have been separately from God forever. The thought of my mortality brought me to the place of receiving Jesus Christ as my Savior.

Since that day my life has never been the same. God changed my whole outlook on life. From my daily walk with Christ to my every day interactions with other people everything has taken a complete 180. I became a true believer and follower of Christ and started LIVING my life for Christ.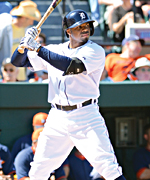 Rajai Davis, OF — Detroit Tiger (2014-)



Born: October 19, 1980
B-T: R-R Ht: 5′9″ Wt: 195
Family: wife, Marissa; daughter, Jade Marie
Major League Debut: August 14, 2006 with the Pittsburgh Pirates

My mom went to church, my dad went to church, and my grandma
went to church. Church in my family growing up was tradition. It was something we did without thinking. I was in church but the church
was not in me. I grew up knowing about Jesus Christ but I never let Jesus Christ grow in me. So, I grew up IGNORING God's call in my life.
I knew He was there but I wasn't ready for Him. Yet, He was always ready for me.

In 2002, living with the loneliness of being away from home for the
first time, I had a lot of time to think about my life and where I would spend eternity. When I came to the place of ACCEPTING Jesus as my Lord and Savior my life started to change. My desires started to change. My wants and my needs started to change but most importantly my heart started to change.

As I got hungrier and thirsty for God I began to experience His FAVORING (GRACE) in my life. He placed the right people in my life and right things began to happen. While the right people were entering my life I began to separate from bad people in my life and bad things stopped happening. Bad things stopped happening because God was, and still is, changing me.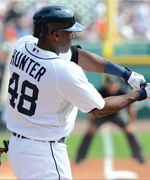 Torii Hunter (Spider Man), OF — Detroit Tiger (2013-)



Born: July 18, 1975
B-T: R-R Ht: 6′2″ Wt: 225
Family: wife, Katrina; sons, Darius, Torii, Monshadrik
Major League Debut: August 22, 1997 with the Minnesota Twins

Growing up in church, I learned about Jesus Christ dying on the cross for my sins, but I chose not to follow Him with my heart. I became influenced by my environment and followed the crowd instead of being an individual and doing the right thing. Eventually, that life began to leave me feeling empty. Something was missing from my life and that began my search.

Proverbs 23:7 kept coming to mind - "As he thinks in his heart, so is he". I knew that I needed to change my thinking so that I could begin my journey from a boy to a man of God. On November 15, 1996, I received Jesus Christ into my heart.

As a new husband and father, I had no idea how to be good at either. I began reading and studying my bible and spending time in prayer. My life began to change. It was a slow and steady growth, but knowing that Jesus loved me in spite of my past inspired me. Now, I carry God's Word in my heart and whenever trouble comes, God's Word is my shield. I have a relationship with my Lord and Savior Jesus Christ and I strive to bring Him glory in all that I do. It is my prayer that you will do the same.

"Wait on the Lord: be of good courage, and he shall strengthen thine heart: wait, I say, on the Lord. Psalm 27:14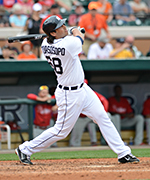 Matt Tuiasosopo, IF/OF — Detroit Tiger (2008-)



Born: May 10, 1986
B-T: R-R Ht: 6′2″ Wt: 225
Family: wife, Abi; son, Josiah
Major League Debut: September 5, 2008 with the Seattle Mariners

Although I grew up in a Christian home and learned God loved me, I found myself constantly FEARING failure in all areas of my life. I knew that God, as well as my parents, loved me but my identity wasn't secure and found in Jesus. My self-worth rose and fell based on my performance in school, sports, and relationships.

I remember saying a prayer at church when I was a child to invite Jesus into my heart. I really didn't understand what I was doing. In February 2012, I realized that my works and performances could never earn a relationship with God. However, through the work Jesus accomplished on the cross I could become God's child. I fully understood and experienced the Gospel for the first time in my life as God began LIFTING me from the pit of destruction and shame. I trusted Jesus Christ as my Savior and Lord.

My life began to change. God turned my ashes into beauty. He healed broken relationships and gave my life meaning and purpose. Today, I stand amazed by God's radical grace and mercy that are new every morning. I never forget that when I was powerless and dead in my sins, God raised me to life. Since I have received Christ into my heart I can't stop SINGING songs of worship and praise to the almighty Creator! Everyday I remind myself that I am loved and accepted by King Jesus no matter what happens in my life. My hope and my trust are in Christ alone and to Him be the Glory always and forever!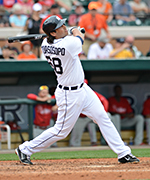 Darin Downs, LHP — Detroit Tiger (2012-)



Born: December 26, 1984
B-T: R-L Ht: 6′3″ Wt: 208
Family: wife, Christy; daughter, Briana
Major League Debut: July 3, 2012 with the Detroit Tigers

Growing up in a loving family in south Florida, I never went to church or read the Bible. Baseball was number one in my life. When I was 13, I started attending church youth group with friends. I met Christy (now my wife) during the '04 off season. I started going to church with her family. I understood everything but was mostly going through the motions. I knew about Jesus in my head but had yet to receive him in my heart.

In '06 I was rehabbing in Phoenix. I went to church with some teammates and met a group of people who showed God's love in how they loved us. I opened my heart to Christ as my savior and Lord. I began to notice changes in my thoughts and actions.

In '09, I almost lost my life on the field when I was hit in the head by a line drive. Instantly, my speech was gone. I was terrified as I rode to the hospital in the back of an ambulance. And yet, as I lay on the stretcher, praying and holding the cross around my neck, I found peace and hope in knowing that God only could help me regardless of the outcome. Since then I have been applying the Lord's Word in to my life, marriage and family. Without Jesus in my life, I honestly don't know where I'd be. I got baptized this past off season!

Psalm 27:1 & Philippians 4:6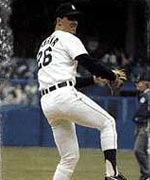 Frank Tanana — Detroit Tiger (1985-92)



Born: July 3, 1953 in Detroit, MI
Major League Debut: September 9, 1973 for the California Angels

A Dream Come True
Baseball was my life. From the age of 7, my dream was to make it to the big leagues. In 1971, the California Angels made me their No. 1 draft pick, and two short years later my dream came true when I was called up to the majors. I was quickly named American League Rookie Pitcher of the year. In 1976, I led the league in strikeouts, and was selected to the All-Star team three consecutive years from '76 to '78. One season, I led the league in shutouts, and in another I had the league's lowest earned run average. I was living that dream. With success came wealth and the ability to buy a nice house and luxury car. I ate in all the trendy restaurants and was even voted Southern California's most eligible bachelor. At 25, everything the world had to offer was right at my feet, and I was plunging in knee deep.

Searching for Meaning in Life
When you stop to think about it, the money, fame and all the luxuries are only temporary. Even our youthful bodies don't last. And when death knocks on the door, we can't take anything with us. I had become a very lonely man on the inside, and I began searching for something else - contentment, purpose and meaning in my life. I started attending a Bible study and found out that there was a God who loved me, and if I only believed in Him, I could get to heaven. I liked how that sounded, as long as I didn't have to give up my fame and fortune.

For five years, I went through the motions, attending church and reading a few scripture verses. But, I was still living for my own selfish gain. I realized I needed a personal relationship with God, and it only comes through His Son, Jesus Christ. The Bible says, "Not every one who says to Me, 'Lord, Lord,' will enter the kingdom of heaven; but he who does the will of My Father who is in heaven." (Matthew 7:21) The Bible makes it very clear. Jesus said, "I am the way, and the truth, and the life; no one comes to the Father, but through Me." (John 14:6)"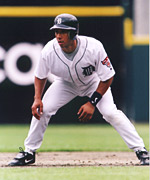 Damion Easley - 2B



B-T: R-R Ht: 5′11″ Wt: 187
Born: November 11, 1969 in New York, NY
Family: wife, Dawn; children, Rocky, Jazmin, Nate, Jayce
Favorite Old/New Testament Books: Job/John

Before I came to know Jesus Christ, baseball was everything to me. From the time I was a child and on into my early years as a major league ball player, my time, energy, and satisfaction in life centered on baseball. My performance on the field determined how I felt about myself. Although I had heard about Jesus Christ, I had no place for him in my life.

In 1994 while traveling on an airplane, I was listening to a group of my teammates talk about eternity and life after death. A couple of them talked about their assurance of going to heaven when they died because of their faith in Jesus Christ. Their confidence made an impact on me and I realized that I was uncertain of my eternal destiny. As the plane descended for landing, I accepted Jesus Christ as my Lord and Savior!

While baseball is still very important to me and I work very hard at it, my relationship with Christ and the beautiful family God has blessed me with take a higher priority. In fact, putting Christ first in my life has made me a better man, husband, father, and baseball player. What place does Jesus Christ have in your life? Why not give him first place? Do it today!

Favorite Bible verse: Philippians 4:13 "I can do everything through Him who gives me strength. "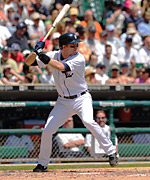 Adam Everett - SS



B-T: R-R Ht: 6′0″ Wt: 178
Born: February 5, 1977 in Austell, Georgia
Family: wife, Jennifer; daughters, Peyton & Paisley
Major League Debut: August 30, 2001 with Houston

I grew up in a Christian home. My parents took us to church every Sunday and Wednesday night. As a result, I received Jesus Christ as my Savior at an early age. I knew that I had accepted Christ but, growing up, I didn't follow Him like I should.

I went off to college at The University of South Carolina. When I set foot on campus for the first time, I had a huge empty feeling in my life. I began attending a Bible study for college athletes. As a result of hearing God's Word, I rededicated my life to Jesus Christ. I felt a tremendous burden lift off my shoulders. Since then, I have found direction, purpose, and meaning for my life. Jeremiah 29:11-12 has become a reality in my life: "For I know the plans I have for you," declares the LORD, "plans to prosper you and not to harm you, plans to give you hope and a future."

I love playing the game of baseball and can't say that it hasn't always been my first love. But I can honestly say that Jesus has changed my life and changed my perspective on life. The Lord has blessed me with a beautiful wife and kids and I owe everything to Him! There is something that is more important than sports and it is Jesus Christ.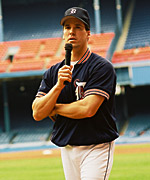 Travis Fryman, 3B - Retired



B-T: R-R Ht: 6′1″ Wt: 194
Born: March 25, 1969 in Lexington, Kentucky
Family: wife, Kathleen; children, Mason, Brandon, Cole
Hobbies: bow hunting and arrow building
Major League Debut: July 7, 1990 with Detroit
Final Season: 2002 with Cleveland
Favorite Hymn: Just As I Am
Favorite Bible Character: Paul
Favorite Old/New Testament Books: Job/Romans

In 1994 I had the whole world in my hands! At least that is what people kept telling me. If it was true, why was I so miserable? I was a major league ball player, an All Star, making big money, and I had a beautiful wife, so what was wrong? Here is what I came to realize: it is impossible to be happy or live a life of meaning apart from a relationship with God through Jesus Christ!

I committed my life to Christ in 1994, the strike year, and it made all the difference. 1 Timothy 4:8 says that "physical training is of little value but godliness is profitable for all things, holding promise in this life and the life to come." The only thing worth your time, treasure, and talents is to serve God.

Are you at peace in your life? Are you happy? Are you making an eternal difference in the life of another person? If not, you need to know God through Jesus Christ today! Start living the life God intended you to live and it will make all the difference!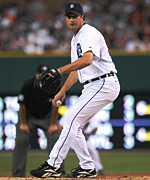 Jason Grilli - RHP



B-T: R-L Ht: 6′5″ Wt: 225
Born: November 11, 1976 in Royal Oak, Michigan
Family: wife, Danielle (married on February 17, 2001)

Growing up, I knew about Jesus Christ in my head but my self-centered attitudes and beliefs kept me from accepting Him into my heart and life. Even when I began to experience success on the baseball field, my life was lonely and empty. I felt as though my priorities were more important that what the Lord's priority was for me.

I signed my first professional baseball contract in the winter of 1997. My first minor league stop was Honolulu, Hawaii. While Hawaii is paradise for many, it wasn't for me. Being that far away from home for the first time, my loneliness and emptiness intensified. The beauty of God's creation in Hawaii began to be a daily reminder that there was something and someone bigger than me that was missing in my life. During a Bible study in the stands at the University of Hawaii, I realized what was missing in my life. I opened up my heart and received Jesus Christ as my Savior and Lord. I've never looked back since.

As a Christian, now my life has meaning and purpose. I wake up every day with the confidence and faith that I have a solid ground to walk on. Jesus Christ is my backbone, not my crutch. During my career, I have faced two major arm surgeries and a lot of physical therapy. By God's grace, I have made it back to the major leagues and pitched in a World Series. Whether I am experiencing trials or triumphs, I am no longer alone as I go through life with Jesus Christ.

"But blessed is the man who trusts in the Lord and whose confidence is in Him." — Jeremiah 17:7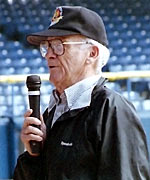 Ernie Harwell - Broadcaster



Born: January 25, 1918 in Washington, GA
Family: wife, Lulu (married in 1941); children, Bill, Gray, Carolyn, Julie
Favorite Old/New Testament Books: 1 & 2 Samuel/Philippians
Career: 55 years in Major League Baseball and 42 years calling Tiger baseball
Hall of Fame Inductions: Baseball (1981), National Sportscasters (1989), Radio (1998)

Growing up, my family did not have much so I began working at a young age. I sold newspapers, magazines, and Christmas cards. I learned to set goals for what I wanted to attain thinking that I would find joy and fulfillment. At the age of 16, I became an Atlanta correspondent for Sporting News thinking that I would find satisfaction if people read my words. Unable to get a fulltime newspaper job, I began a radio career at WSB Atlanta in 1940 with a sports program. I discovered that being on the radio didn't give me fulfillment either. Following a four-year stint in the Marines as a writer for their publication, Leatherneck, I began broadcasting baseball.

Even after becoming a major league announcer, I was still searching for something to fill the emptiness I felt in my life. In 1961, I attended an outdoor Easter morning service in Bartow, Florida. It was there that I came to understand that I was a sinner, "for all have sinned and fall short of the glory of God" (Romans 3:23) and I received Jesus Christ as my Savior "the wages of sin is death, but the gift of God is eternal life in Christ Jesus our Lord" (Romans 6:23). My relationship with Jesus Christ has helped me truly prioritize my life to please Him, given me the strength to overcome any problems I have faced, and brought me the peace and fulfillment I was seeking. I enjoy my walk with Him each day!

Favorite Bible verse: Philippians 4:7 "And the peace of God, which transcends all understanding, will guard your hearts and your minds in Christ Jesus."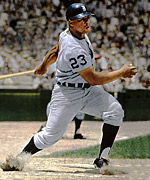 Willie Horton - Detroit Tiger (1963-77)



Born: October 18, 1942 in Arno, VA
High School: Northwestern High School – Detroit, MI (Class of '61)

Much of my life has been spent striving to be the best baseball player I could be. I wanted to be like the Negro League heroes my Dad highly respected. At 20 years of age, I made my major league debut. While I enjoyed success on the baseball field, I found myself straying from the religious upbringing my parents sought to give me.

In 2003, at the age of 60, a nephew of mine was battling cancer. I tried to talk with him about how he was feeling, and he told me not to worry about him. "You should be worrying about your own soul," he said. His words hit me like a fastball to the ribs. I was stunned to receive a call a couple days later informing me that he had died of a heart attack. The day after attending his funeral, I received the news that another nephew had been tragically killed. At the church for his funeral, God's message of love overwhelmed me. I knew it was time and I received Jesus Christ as my Savior.

Happiness and joy surround my life these days. Along with working for the Detroit Tigers, I have the privilege of confessing the name of my Lord Jesus Christ. I find my daily strength in God's Word. I have found a peace in my life. I'm closer to my team, my family and my God. My life seems complete.

"What good will it be for a man if he gains the whole world, yet forfeits his soul?"
Matthew 16:26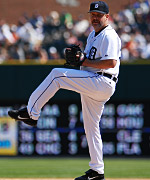 Todd Jones - RHP



Ernie Harwell, the Detroit Tiger Hall of Fame broadcaster, gave me the nickname: 'the roller-coaster'. While I get my closer job done most of time, sometimes my appearance in a game can bring emotional highs and lows to my manager, teammates, and fans.

My life was that way growing up. There were a lot of ups, downs, and unexpected turns. I found myself wandering aimlessly. While in college, I experienced one of my life's highlights. I met a girl, Michelle, who later became my wife. She invited me to her parent's home on weekends. She helped me out by washing clothes and giving me a good home cooked meal. She always asked me to go to church with her and her family. Reluctantly, I would go. I began to see a joy in this family that I had never experienced in my life. I wanted the contentment, calmness, and peace they had!

On October 6, 1991 while playing in the minor leagues, I invited Jesus Christ into my life and since that moment my life has been different. Doubts about life, eternity, and Jesus left after believing that Jesus died on the cross and rose from the dead for my sin and me. I have humbled myself before Him as my Savior and Lord.

Daily, I am thanking God for my journey through life. My joy is a result of my relationship with Christ. I don't want to hurt Him by doing or saying anything against His Word. From time to time I still fail but my desire is to live for Him. And I know that at the end of my roller coaster ride through life, I have a home forever in Heaven with Jesus and those who follow Him. I hope to see you there.

Then Jesus told him, "Because you have seen me, you have believed;
blessed are those who have not seen and yet have believed."
John 20:29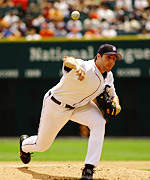 Gary Knotts - RHP



B-T: R-R Ht: 6′4″ Wt: 230
Born: February 12, 1977 in Decatur, AL
Family: wife, Amanda (married Jan. 1, 1999)

Life was pretty simple growing up in Alabama. School, sports, and hanging out with friends, left little time for anything else. I had a great relationship with my parents and they tried hard to give my sister and I the best of everything, yet we lacked something as a family. What was missing in each of our lives was a personal relationship with Jesus Christ.

As a teenager, I noticed many of my friends went to church. For whatever reason, we did not have church home. So, when I turned 16 years old and received my driver's license, one of the things I did was attend a nearby church service one Sunday morning. I really enjoyed it and continued to go back. Within a few weeks, I sat down with the pastor to talk about church membership. He asked me if I could remember a specific time in my life when I had received Jesus Christ as my personal savior. When I told him no, he shared specific verses from the Bible that lay out the plan of salvation (Romans 3:23, 6:23, 5:8, 10:9-13). He told me how much Christ loved me (John 3:16, Ephesians 2:4-10) and that Jesus was the only way (John 14:6). Then he asked me if it was the desire of my heart to follow Christ and lead a new life. I said yes and there in the church I knelt to pray and receive Jesus Christ into my heart as my personal savior. It was so simple! All I had to do was ask, believe, and receive. It doesn't get any easier than that.

I made that important decision in my life as a teenager. I would like to tell you that life has been rosy ever since, but the truth is that following Christ doesn't exempt you from trials and tribulations in this world. However, no longer will you have to face problems without hope or answers; you can now face them with faith and confidence in Jesus Christ.

Favorite Bible Verse: "It is God who arms me with strength and makes my way perfect."
Psalm 18:32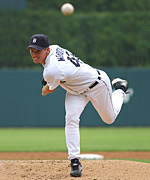 Mike Maroth - LHP



B-T: L-L Ht: 6′0″ Wt: 190
Born: August 17, 1977 in Orlando, Florida
Family: wife, Brooke (married January 20, 2001); son, Nolan (born October 29, 2003); son, Tate (born November 25, 2005)
Major League Debut: June 8, 2002 with Detroit
Favorite Bible Verse: "Let us fix our eyes on Jesus, the author and perfecter of our faith, who for the joy set before him endured the cross, scorning its shame, and sat down at the right hand of the throne of God." Hebrews 12:2

Growing up, Sunday mornings were spent sleeping in or watching television. I did not know Jesus or that a personal relationship with Him was available to me. As a teenager, I stayed busy with cars, surfing, fishing, and playing baseball. When I entered college, life became more complicated. I began searching for purpose and meaning in my life. Even though I was successful in sports and school, there was a constant feeling that I was missing something.

During my junior year at the University of Central Florida, I met a beautiful girl who introduced me to the most important person I would ever know, Jesus. From the moment we met, I was drawn to the characteristics in Brooke that set her apart from other people I knew. I soon learned that it was not only Brooke I was drawn to, but also Jesus in Brooke.

I began to learn about Jesus and His life through reading the Bible and going to church. Soon after, I realized what I had been missing. In August 1998, I was in the locker room with a Christian teammate who had been a great encouragement to me through the testimony of his faith. It was there that I prayed to receive Christ as my Savior. My life changed in a new direction and I have come to realize that it is more important to please God than people. I know my worth is found in Jesus because of the love and mercy He showed me on the cross.

In 2001, I married Brooke. In 2002, I became a pitcher in the Major Leagues. In 2003, I became a father. Each of these is an extraordinary gift and blessing from the Lord, but none compares to the gift I received in that locker room in August 1998…salvation through Christ Jesus. Only through knowing Him did I receive purpose and meaning for life and eternity. You can receive this same gift through knowing Jesus Christ as your Savior.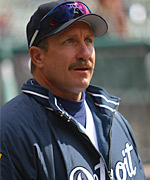 Lance Parrish - Coach



Ht: 6′3″ Wt: 240
Born: June 15, 1956 in Clairton, Pennsylvania
Family: wife: Arlyne; children: David, Matt, & Ashley
Hobbies: Hunting, Golf

The Bible tells me that I am no different than anyone else in the world. I am a sinner, separated from God by my sin and in need of a Savior. In John 14:6, Jesus says, "I am the way, the truth, and the life. No one comes to the Father except through me." It is through Christ's death and resurrection that we can be assured of eternal salvation, if we accept Him as our Lord and Savior.

I prayed to receive Christ as my Lord and Savior in 1978 during a Baseball Chapel service at Tiger Stadium. I finally came to understand how much God loved me and that He wanted to have a personal relationship with me through His Son, Jesus Christ.

God challenges all of us to study His Word (the Bible) so that He can reveal Himself to us and teach us the truths of this life. I encourage you to seek the truth. Discover for yourself what your purpose in life really is. The Lord desires that all receive salvation through His Son, but He leaves the decision to us. Where you spend eternity is your choice.

"Salvation is found in no one else, for there is no other name under heaven given to men by which we must be saved."
Acts 4:12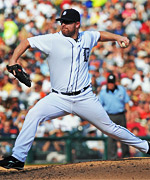 Nate Robertson - LHP



B-T: R-L Ht: 6′2″ Wt: 220
Born: September 3, 1977 in Wichita, Kansas
Family: wife, Kristin; son, Wyatt
Major League Debut: September 7, 2002 with Florida

As a child, I rarely experienced hardships. I had a loving family who supported me in all I did. I knew my parents were doing the best they could with what they had. We worked hard for everything we had and lived a simple life. The one major problem I endured in my youth was acceptance amongst my peers. I felt that I didn't belong with those around me. Meaningful relationships were hard to come by. Outward appearance became a huge issue but I just didn't fit in.

Through reading the Bible and attending church, I began to realize that God wasn't concerned about image but the condition of my heart. Jesus spoke in Matthew 6, "Therefore I tell you, do not worry about your life, what you will eat or drink; or about your body, what you will wear … But seek first his kingdom and his righteousness, and all these things will be given to you as well." I turned my life over to Jesus Christ on January 20, 1991. I now know that He fully accepts and loves me. I have identity and purpose in my life through Jesus Christ.

Today, I look back at my life and how I made it here. As I have grown in my relationship with Jesus, significant changes have taken place in my life. Even at times when I struggled, God has remained faithful to me. He promised He would never leave me, nor forsake me, and I owe Him my life for that. God loved me even when I was a sinner, and He gave His Son for me. I have now experienced what is written in 1 John 5:11-12, "And this is the testimony: God has given us eternal life, and this life is in his Son. He who has the Son has life; he who does not have the Son of God does not have life."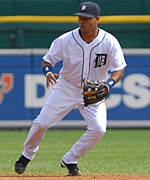 Ramon Santiago - INF



B-T: S-R Ht: 5′11″ Wt: 175
Born: August 31, 1979 in Las Matas de Farfan, DR
Family: wife, Andriana Caba
Major League Debut: May 17, 2002 with Detroit

My name is Ramon Santiago. I am from the Dominican Republic. As a child I spent most of my time doing two things. My parents made me stay in school and I was always playing baseball. I came from a religious family but I did not realize that I needed to personally allow Jesus Christ into my life. I played well enough in baseball that the Detroit Tigers drafted me at the age of 18 in 1998.

Under the teaching of the Baseball Chapel leader in Lakeland, Florida, I learned that Jesus died on the cross for my sins and that he alone could save me from Hell. In 1999, I received Jesus Christ as my Savior. I came to the United States to play baseball but also invited Jesus into my life.

Since that time, I have felt Jesus' encouragement in my life during times of injury, illness, and struggles. I try to read the Bible everyday. I was baptized in 2008 to obey God's Word and to let other people know that I love Jesus Christ. He is my savior and Lord.

A favorite verse of mine is Psalm 27:1. It says:

The LORD is my light and my salvation—whom shall I fear?
The LORD is the stronghold of my life—of whom shall I be afraid?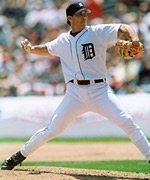 Steve Sparks - RHP



B-T: R-R Ht: 6′0″ Wt: 195
Born: July 2, 1964 in Tulsa, OK
Hobbies: golf, fishing
Family: wife, Michelle; children, Alexa, Blake, Chloe
Favorite Old/New Testament Books: Proverbs/James

Someday all of our worldly possessions which we spend so much time accumulating will be gone. Eternal life is the only thing that will matter when we die. God offers that to everyone, but we must accept it. Every day each of us makes many decisions, but no decision is more important than where we are going to spend eternity. Since none of us is perfect, we all sin and fall short in God's sight. Jesus Christ dies on the cross and rose again to pay the price for our sin. That payment is the gift God offers to each one of us. Accepting Christ as Savior is the most important decision you will ever make. I made that decision in 1990 while playing in the minor leagues.

Favorite Bible verse: Luke 10:27 "Love the Lord your God with all your heart and with all your soul and with all your strength and with all your mind, and love your neighbor as yourself."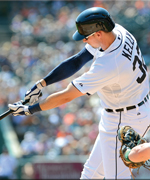 Donnie Kelly, IF/OF - Detroit Tiger (2009-)



B-T: L-R Ht: 6′4″ Wt: 220
Born: February 15, 1980
Family: wife, Carrie; son, Brett
Major League Debut: April 2, 2007 with the Pittsburgh Pirates

I grew up in a caring, church-going family in the suburbs of Pittsburgh. We were involved in many activities at church: youth group, plays, retreats, and mission trips, etc. I felt very fortunate to learn about Christ at a young age. The seed had been planted and, at the age of 8, I accepted Jesus Christ as my Lord and Savior.

Although I was young, God began working in my life! The Word of God and the Spirit of God helped me know right from wrong. Most of the time I tried to do what was right. However, I wasn't letting Christ into all areas of my life. I was wrapped up in baseball and in whom I was as a baseball player rather than who I was as God's child. He took baseball away through injury and, in turn, brought me to rededicate my life to live for Jesus as I should. Although I had accepted Christ as my Savior as a child, it took until I was 24 to really understand who God is and what Jesus did for me.

My life and priorities began to change when I fully yielded all areas of my life to Christ. I continue to try and live God's will in my life, and it is always interesting to see how God has used certain experiences in life to mold me. Through good and through bad, I always try to fully trust in God's plan for my life and to maximize the talents and gifts He's given me for His glory.

I pray that you will read and believe 1 John 5:11-12
Testimonies From:
Click a name below to see the information for that person.

Ray, Robbie (2014)
Davis, Rajai (2014)
Hunter, Torii (2013)
Tuiasosopo, Matt (2013)
Downs, Darin (2013)
Kelly, Donnie (2011)
Tanana, Frank (2009)
Robertson, Nate (2009)
Everett, Adam (2009)
Horton, Willie (2009)
Santiago, Ramon (2009)
Jones, Todd (2007)
Grilli, Jason (2007)
Maroth, Mike (2007)
Knotts, Gary (2005)
Parrish, Lance (2004)
Fryman, Travis (2003)
Easley, Damion (2002)
Harwell, Ernie (2002)
Sparks, Steve (2002)